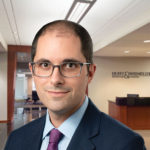 From Providence Business News | April 2021
Greg Tumolo recently received the 2020 Volunteer of the Year award from the Rhode Island Society for Human Resource Management.  Greg was recognized for spearheading and developing content for the RI SHRM COVID-19 Resource Center. The Resource Center is a curated collection of articles, checklists, forms, FAQs, public health guidance, and webinars that Rhode Island HR professionals need to respond to the unprecedented challenges facing them during the pandemic.
Subscribers can access the full PBN interview here (or subscribe for $1 for one month).
Greg is senior counsel at Duffy & Sweeney and head of the employment law team. He has been at the forefront of the critical issues facing employers and employees during the COVID-19 pandemic, covering topics including the Families First Coronavirus Response Act, the Paycheck Protection Program, workplace health and safety, furloughs/layoffs/reductions in force, and preparing for a return to work in the post-COVID-19 workplace.
Greg is a member of the Board of Directors and Director of the Legislative Affairs Committee for Rhode Island Society for Human Resource Management.