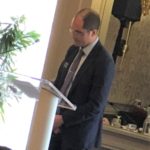 On Thursday, November 14th, Greg Tumolo — chair of Duffy & Sweeney's employment law practice — spoke on "The Dos and Don'ts of HR Documentation" at the annual employment law update sponsored by the Employers Association of the NorthEast (EANE).
His presentation covered how documentation establishes organizational credibility and reduces risk.  He reviewed the fundamentals, shared best-practices, and beyond.
A lively crowd of HR representatives and leaders from the C-suite  gathered at the Providence Marriott for the half-day update.
Greg was joined by a stellar line-up of area professionals including:
Nina Pande, Skills for RI'S Future
Melissa Charpentier, Seven Hills Foundation
Mark Adams, EANE
Nora Crowley, RI Governor's Workforce Board
Sheila Felice, Navigant Credit Union
John Henderson, EANE
Dave Sweeney, Viz-Bang Productions
If you missed the presentation, access the PowerPoint here.
For questions, contact Greg Tumolo here.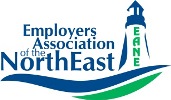 Learn more about EANE here.