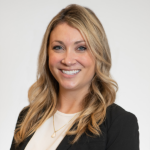 We are pleased to welcome Jaclyn Cotter to the firm's litigation team.
Jaclyn litigates and counsels clients regarding commercial litigation matters, with a primary focus on business related disputes. She frequently represents individuals and businesses involved in general and complex business disputes, contract disputes, and various business claims arising out of fraud, embezzlement and conspiracy.
Jaclyn represents clients throughout all stages of litigation, and before federal and state courts. She also has experience representing clients in construction litigation, landlord tenant disputes and land use matters.
Prior to joining the firm, Jaclyn's practice focused on a wide range of litigation matters, including the defense of insurance liability, general liability, workers' compensation, toxic tort, personal injury, and defense of design professionals.