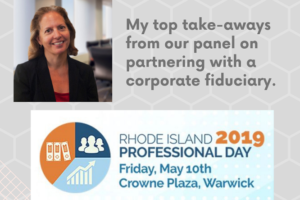 by Stacey Nakasian | I was recently part of an exciting day and panel for Rhode Island Professional Day which focused on Partnering with a Corporate Fiduciary. We had a lively discussion with some dynamic audience participation.
Our panel took a deep dive into why and when to consider the appointment of a corporate fiduciary (bank or trust company) as trustee.
Here are some important take-aways:
1) A corporate fiduciary has an institutional understanding of a trustee's legal duties and responsibilities.
2) A corporate fiduciary can provide continuity for successive generations of beneficiaries in a multi-generational trust.
3) If the trust's assets comprise securities, a corporate fiduciary is well suited to make or approve investment decisions.
4) A corporate trustee can readily generate and maintain necessary records of the trust's administration.
5) A corporate trustee is particularly appropriate for special needs trusts or other specialty trusts.
Stacey Nakasian has over twenty-five years' experience litigating complex commercial issues – with special expertise in fiduciary and trust matters — and leads the firm's litigation practice. She was recognized by Best Lawyers as the 2019 Lawyer-of-the-Year for Trusts and Estates Litigation in the Providence metro region. She previously received this designation in 2015.