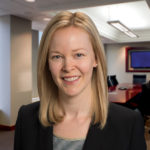 We welcome Amy Oakley as a partner in our business law group and as co-chair of our banking and finance practice. Amy focuses on commercial finance, commercial real estate, tax credit finance and general corporate matters.
Over her career, she has represented more than 15 major financial institutions in all areas of commercial finance, with special emphasis on non-recourse and limited recourse debt, real estate financing, asset based financing, construction financing, bridge financing and participations. She has acted as lead or associate counsel in over 350 commercial loan transactions with loan amounts up to $50,000,000.
Amy represents syndicators, developers and lenders in federal and state tax credit transactions. In the area of real estate, she works with both buyers and sellers in property acquisitions, sales, leasing and development.
At Duffy & Sweeney, Amy will also support the firm's mid-market mergers-and-acquisitions group in all aspects of transaction finance.
See Amy's full professional biography and contact information here.