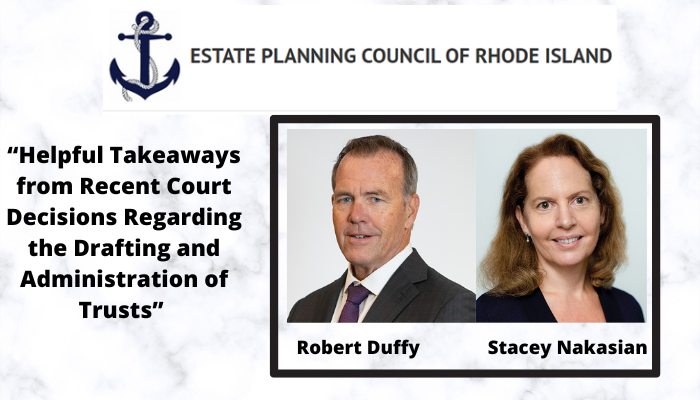 "Helpful Takeaways from Recent Court Decisions Regarding the Drafting and Administration of Trusts" was the title for the April webinar presented by Bob Duffy and Stacey Nakasian for the Estate Planning Council of Rhode Island.
The one-hour presentation covered topical issues including: modifying trust terms after the settlor's death, duties owed by trustee's counsel to trust beneficiaries, compensation for individual trustees, and trust drafting pointers based on litigated cases.
At Duffy & Sweeney, our trust and estate attorney team handles complex and cutting-edge cases involving questions of fiduciary responsibilities and the administration of trusts and estates, often defending trustees and other fiduciaries as well as advocating for the rights of beneficiaries. Learn more about our Fiduciary & Trust practice here.
Reach out to Bob Duffy and Stacey Nakasian here.