The attorneys and staff at Duffy & Sweeney took a break from the hustle and bustle of the busy law firm to deck their doors, gather for a festive homemade-cookie swap and adopt three families in need.
T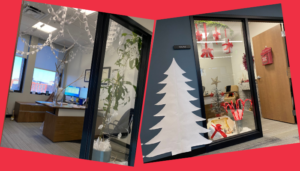 his was the second year the firm organized a work space/door-decorating contest, which was inspired during the Covid crisis as a way to safely share holiday cheer. The 2022 entries decked and dazzled our halls and made our spirits bright with a variety of original and imaginative decorations.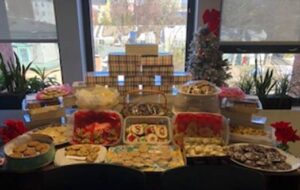 Our cookie swap brought out culinary masterpieces of every kind … from a traditional linzer torte to ingenious gingerbread men bearing candy canes to beautifully decorated sugar cookies. All participants made at least two dozen cookies and took home a variety of sweet  treats. It was a truly magical display.
We again adopted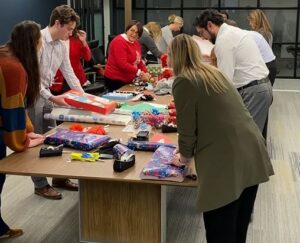 families from the Woonsocket Adopt-A-Family program, fulfilling the wish lists of five children. With close to 100% participation from the firm, the team capped off its shopping with an afternoon wrapping and pizza party. Adopt-A-Family's mission is to anonymously match people in the community (donors) with families in Woonsocket (recipients) who are struggling financially. The donors provide each child's entire Christmas, based on the Wish List provided by the parents.