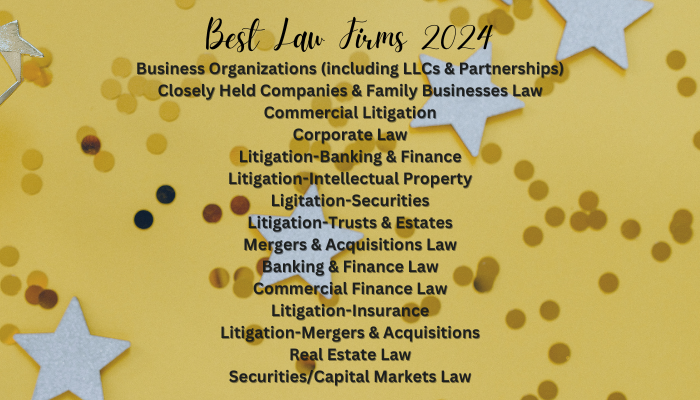 Duffy & Sweeney again was included in the "Best Law Firms" list compiled by U.S. News & World Report and Best Lawyers for Rhode Island for 2024.
The firm was recognized for professional excellence in the following 15 areas:
⭐Tier 1 Rankings:
Business Organizations (including LLCs and Partnerships)
Closely Held Companies and Family Businesses Law
Commercial Litigation
Corporate Law
Litigation – Banking & Finance
Litigation – Intellectual Property
Litigation – Securities
Litigation – Trusts & Estates
Mergers & Acquisitions Law
⭐Tier 2 Rankings:
Banking and Finance Law
Commercial Finance Law
Litigation – Insurance
Litigation – Mergers & Acquisitions
⭐Tier 3 Rankings:
Real Estate Law

Securities / Capital Markets Law
Firms included in the 2024 Edition of U.S. News – Best Lawyers "Best Law Firms" are recognized for professional excellence with consistently impressive ratings from clients and peers. To be eligible for a ranking, a firm must first have a lawyer recognized in The Best Lawyers in America©, which recognizes 5% of lawyers practicing in the United States. Achieving a tiered ranking signals a unique combination of quality law practice and breadth of legal expertise.  Firms that received a tier-one designation reflect the highest level of respect a firm can earn among other leading lawyers and clients from the same communities and practice areas.
To learn more, contact Michael Sweeney here.