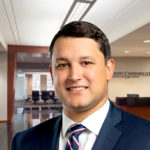 We are proud to announce the addition of Matthew Phillips to our Business Law team.
"Matt brings a diverse mix of legal experience to our firm, much of it on the cutting edge of business law. During his four and a half years in the United States Army he exercised leadership in often challenging circumstances that allowed him to gain the kind of experience and judgement that will make him a real asset to our firm," said Michael Sweeney, a Founding Partner of the firm.
Most recently, Matt worked as a Senior Privacy and Compliance Auditor for Lifespan for one year. He focused on HIPAA compliance, mitigating risk and meeting regulatory requirements for Rhode Island's comprehensive healthcare system. Prior to his role at Lifespan, Matt was hired as Special Counsel by Boston Financial Data Services in Boston.
He is a 2016 graduate of the University Of Miami School Of Law and a 2013 honors graduate of the University of Rhode Island.