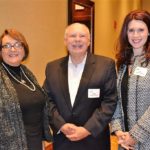 Congratulations to our team from Duffy & Sweeney and the Employers Association of the NorthEast (EANE) on a dynamic and engaging conference on November 9th.
Presentations spanned medical marijuana in the workplace; federal employment law and Rhode Island court decisions; the impact of the ADA, FMLA and other interrelated laws; broaching retirement with older employees and more. The capacity-crowd contributed lively questions and insights in the panel discussion.
The attorneys in Duffy & Sweeney's employment law group represent and guide clients  in all areas of employment law to manage workplace risk, offering day-to-day advice to reduce the likelihood of employment-related disputes. When needed, they vigorously represent companies and executives in employment litigation, defending employment discrimination and related claims in state and federal courts, administrative agencies, and private arbitrations. Learn more here or access PowerPoint presentations below.
Learn more from D&S attorneys Jean Harrington and Roger Hood.