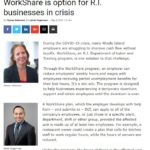 D&S attorneys Stacey Nakasian and Jared Sugerman recently co-authored a guest article for Providence Business News entitled: WorkShare is option for R.I. businesses in crisis.
"During the COVID-19 crisis, many Rhode Island employers are struggling to improve cash flow without layoffs. WorkShare, an R.I. Department of Labor and Training program, is one solution to that challenge.
Through the WorkShare program, an employer can reduce employees' weekly hours and wages with employees receiving partial unemployment benefits for their lost hours. It's a win-win. The program is designed to help businesses experiencing a temporary downturn support and retain employees until the downturn is over."
See the full article from the May 8th issue in Providence Business News here or reach out to Stacey Nakasian or Jared Sugerman.