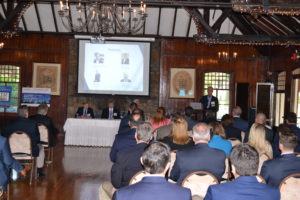 It was a stellar night at the Squantum Association for the recent ACG Boston's PROVIDENCE NETWORKING NIGHT, co-sponsored by Duffy & Sweeney, BNY Mellon Wealth Management and KLR.
The evening included a presentation on "When is Growth Equity the Best Alternative for Your Business?" followed by a networking reception overlooking the scenic views of Narragansett Bay and the Providence skyline.
Mike Sweeney served as the moderator with featured speakers: Michael Conaton, Managing Partner from Cyprium Partners; Todd Ofenloch, Managing Director from H.I.G. Capital; and Daniel Williams, Managing Director of Bay Capital Investment Partners.