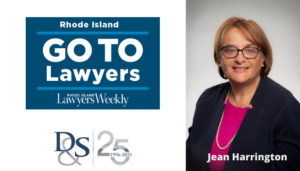 Congratulations to Jean Harrington who was recognized as a Go To Lawyer by Rhode Island Lawyers Weekly for 2021 in the practice area of Business Law.
The list recognizes the top lawyers across the state who are leaders in their field with a long record of success. Go To Lawyers were nominated by their peers and chosen by a Lawyers Weekly panel.
A partner at Duffy & Sweeney, Jean  is chair of the business law team with special expertise in mergers and acquisitions, representing sophisticated private investment funds, multi-national corporations and other market participants in their most challenging transactional matters. She is known for engineering creative resolutions which unite divergent parties and bring complex deals to fruition.
Earlier this year, Jean was selected as Lawyer-of-the-Year for the practice area of Mergers & Acquisitions by Best Lawyers in the Providence Metro Region.