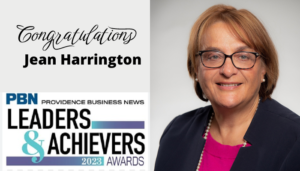 Congratulations to Jean Harrington on her recognition as a PBN Leader & Achiever for 2023.
A partner at Duffy & Sweeney, Jean is chair of the business law team with special expertise in mergers and acquisitions, representing sophisticated private investment funds, multi-national corporations and other market participants in their most challenging transactional matters. She is known for engineering creative resolutions which unite divergent parties and bring complex deals to fruition.
PBN's Leaders and Achievers recognizes individuals over the age of 50 for their notable success and strong leadership both in their fields and to the region.  Honorees were chosen based on their long-standing commitment to the business community as well as a sustained demonstration of leading others, community service and mentoring.