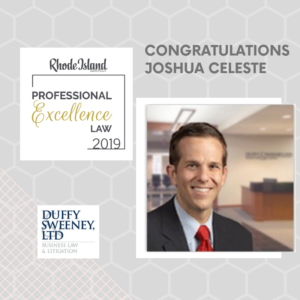 Shout out to D&S partner Joshua Celeste for his recent recognition in the practice area of business law by Rhode Island Monthly.
Josh has a broad-based corporate law practice and is known for successfully navigating multi-faceted business transactions that fortify his clients' businesses and position them to prosper. He works with corporate clients on domestic and international acquisitions, dispositions, and mergers; complex restructurings and recapitalizations; and diverse governance issues. He has handled significant real estate development matters in conjunction with his corporate practice including property acquisitions; project development and construction; and leasing and financing.
Josh has counseled a variety of forward-thinking companies ranging from local, start-up private entities to national, publicly traded companies. He has handled offerings and placements of debt and equity securities, equity investments and acquisitions ranging in value from $10 to $100 million, venture capital financings ranging in value from $500,000 to $10 million, and revolving credit and term loan facilities ranging in size from $1 to $50 million.