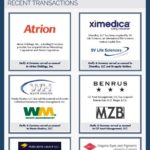 See the  latest deals from our corporate law and merger/acquisitions practice.
Our team brings to the table a wealth of experience advising public and private companies in all aspects of mergers and acquisitions in both the US and internationally. We regularly handle asset and stock purchases and dispositions, mergers, tender and exchange offers, leveraged buyouts and restructurings. When litigation issues arise, we represent clients to resolve disputes at any stage of the transactions.
Contact Mike Sweeney at 401. 457.1801 or msweeney@duffysweeney.com to learn more.