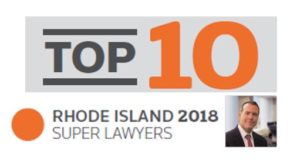 Congratulations to firm co-founding partner Bob Duffy who was recently included in the Super Lawyers' Top Ten List for Rhode Island.
The top ten picks are based on the highest scores via Super Lawyers' patented multi-phase selection process including peer nominations, evaluations and independent research.
The list was published in Rhode Island Monthly last month as part of the special section Rhode Island Monthly does on behalf of Super Lawyers / Thompson Reuters.
Click here to see full page from Rhode Island Monthly.