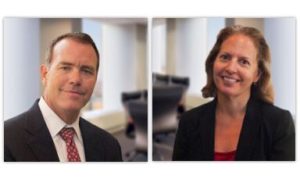 D&S attorneys Bob Duffy and Stacey Nakasian were featured in a front-page article in Rhode Island Lawyers Weekly last month entitled "Service Charge Added to Trustees' Indemnification." The article addressed a Court decision approving payment of interest by a trust on legal fees incurred by the trustees.
"Pre-judgment interest should be added to the counsel fees incurred by trustees during the course of litigation with the beneficiaries of the trust, a Superior Court judge has decided. The trustees' engagement letter with their legal counsel provided for interest at the rate of 1 percent a month to be added to amounts not paid within 30 days following billing." The Court held that the interest charges were reasonably incurred by the trustees and subject to payment from the trust.
See article in Rhode Island Lawyers Weekly here. (As always, the full article is behind the RILW paywall.) Or contact Bob Duffy or Stacey Nakasian.