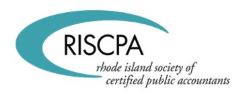 Friday, December 4, 2015 | 8:30 to 10:30 a.m. | RISCPAs Headquarters
In today's competitive marketplace, the successful sale of a client's business involves strong representation from a team of legal, financial, tax and other professionals. This program will analyze the anatomy of a sale including key market terms and concepts, negotiation tactics, and critical financial and accounting aspects of every deal.
Join Mike Sweeney, Jean Harrington and Josh Celeste from Duffy & Sweeney's business law team to gain insights and tips … from the letter of intent through to closing. This course will cover use of post-closing earn-outs, net working capital PEGS and adjustments, financial statement reps and warranties plus other key areas where a CPA plays a pivotal role in the deal process.