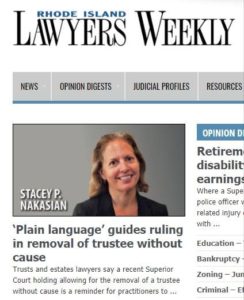 Stacey Nakasian was featured in a front-page article in the February 12th issue of Rhode Island Lawyers Weekly concerning a trust case decided by the Rhode Island Superior Court.
Stacey represented two trustees who removed their co-trustee, without cause, pursuant to a provision in the trust document. The trustee being removed asked the Court to decide whether it could be removed without cause.
The Court determined that removal without cause was permitted according to the trust document. The decision is a reminder for all attorneys drafting trust instruments to be clear on provisions for removing trustees.
See the full Rhode Island Lawyers Weekly article entitled: "Plain language guides ruling of removal of trustee without cause" here. To learn more, contact Stacey Nakasian here or via phone at 401.455.9799.
ABOUT OUR FIDUCIARY & TRUSTS PRACTICE
Our trust and estate attorney team handles complex and cutting-edge cases involving questions of fiduciary responsibilities and the administration of trusts and estates, often defending trustees and other fiduciaries as well as advocating for the rights of beneficiaries.
Duffy & Sweeney litigators understand the sensitivities inherent in fiduciary and trust cases, including the intricacies of dealing with differently aligned parties and the family dynamics that often arise.
While our trust and estate attorney team approaches litigation aggressively, we often negotiate successful resolutions outside the courtroom without compromising clients' goals.
The firm has received top-tier rankings by Best Law Firms in conjunction with US News & World Reports for the category of Litigation-Trusts and Estates and, individually, our litigators have been recognized by Best Lawyers in this area.