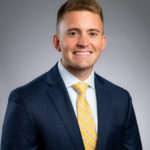 We are pleased to announce the addition of Joseph Galindo as an associate in the litigation department.
Joe comes to Duffy & Sweeney from the Rhode Island Supreme Court, where he worked for a year as a law clerk for Justice Francis Flaherty. His prior experience includes a year-long law clerkship for the Rhode Island Supreme Court Trial Court Law Clerk Department, researching civil and criminal legal issues for Justices Brian Stern and Richard Licht. He has also held several legal intern and externships.
He presently serves as a member of the Rhode Island Supreme Court Rules of Evidence Committee, and previously volunteered for the city of Central Falls Law Department.
Joe graduated magna cum laude from Roger Williams University of Law, after earning his bachelor's degree in business administration and finance from the University of Rhode Island.
A lifelong resident of Pawtucket, Joe is a member of both the Rhode Island and Massachusetts bar as well as the United States District Court for the District of Rhode Island.