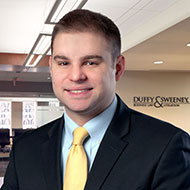 Jonathan P. Cardosi joined Duffy & Sweeney in February with experience in a broad range of commercial litigation matters. He is admitted to practice law in Rhode Island and Massachusetts.
He has represented construction companies in mechanic's lien actions and breach of contract claims. He has advised contractors on environmental compliance issues associated with state regulations and has assisted a client in an EPA administrative enforcement action. Jonathan also has represented local, national and international corporations in breach of contract, premises liability, and complex products liability matters.
Jonathan is a  magna cum laude graduate of Boston College, where he was elected to Phi Beta Kappa. He received his law degree from Tulane University School of Law in New Orleans. While in law school, he worked for the Tulane Environmental Law Clinic, the Rhode Island Department of the Attorney General, and Rhode Island Legal Services.
Jonathan is a member of the board of directors for Young Voices, a Rhode Island-based non-profit organization that transforms urban youth into powerful advocates.  He is a member of the Energy & Environmental Law Committee of the Rhode Island Bar Association and a member of the Defense Research Institute and Defense Counsel of Rhode Island.