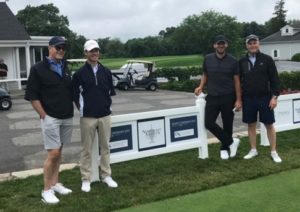 Duffy & Sweeney was proud to again sponsor the Northeast Amateur Invitational Golf Tournament in June at the Wannamoisett Country Club.
Firm co-founders Bob Duffy and Mike Sweeney (far left and far right, respectively, in photo) enjoyed a round of golf with Cole Hammer, one of the top US amateurs in the world, … and enjoyed meeting Tony Romo, too.
The Northeast Amateur celebrated its 58th year of hosting the best amateurs in the world. The Tournament began in 1962 and was played as a 54-hole event until 1968. The Tournament is an invitational event conducted at stroke play over 72 holes and is limited to 92 players. Contestants are selected on the basis of their competitive record and accomplishments in major tournaments.