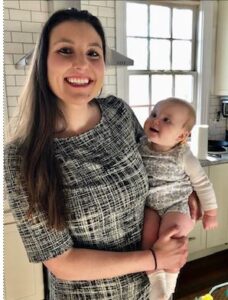 What you would like people to know about your  practice?
As a litigator,  I represent a broad range of clients on a variety of issues from beneficiaries in trust litigation to minority shareholders frozen out of a close corporation to businesses defending against FLSA violations. What unites my approach to every case is a commitment to understanding the unique needs of D&S's clients and how litigation can aid them in achieving their goals. 
What is your favorite "Rhody" activity or organization?
My husband and I have been season ticket holders to Trinity Rep for a few years now. I am always blown away by the talent of Trinity's performers, and I really missed going to shows during the height of the pandemic. I saw Tiny Beautiful Things a few weeks ago, and I was so happy to be back in the theater.
In addition, as a non-native Rhode Islander, I was thrilled to discover that this state really punches above its weight on the culinary scene. Some of my favorite places include Chez Pascal, Matunuck Oyster Bar, and Broadway Bistro.
What is the last book you read?
My love of reading is a huge part of who I am. Unfortunately, as someone who reads and writes all day for a living, it is sometimes hard to motivate myself to read on my own time. I recently joined a book club, which has gotten me back on track. I am in the middle of Project Hail Mary by Andy Weir, which is fabulous so far.
What is the biggest challenge you have overcome in your professional life?
The  photograph here was taken on my daughter's first day of daycare almost a year ago. It was a hard day. I am still at the very beginning of my journey balancing being a mother and a litigator. However, I am proud of my personal and professional accomplishments over the last year. I have learned that it truly does take a village to parent in 2022, and I am thankful for my husband, family, friends, and my supportive workplace who have all had a huge hand in helping me navigate parenthood.