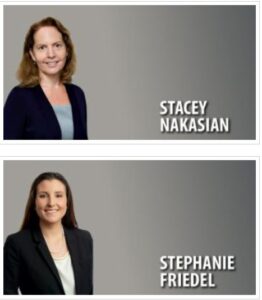 Duffy & Sweeney attorneys Stacey Nakasian and Stephanie Friedel recently prevailed in a Providence Superior Court case where a company's former in-house lawyer alleging breach of contract claims against the company sought to disqualify the company's outside lawyer from representing the company in the case. The judge found that the outside lawyer had no pre-existing attorney-client relationship with the in-house lawyer that would disqualify the outside lawyer from defending the company in the action.
The matter was highlighted in Rhode Island Lawyers Weekly by reporter Eric Berkman in November.
Providence lawyers Stacey P. Nakasian and Stephanie F. Friedel represented the defendant. Nakasian said the decision provides a good analysis of the test to determine whether counsel should be disqualified based on an alleged prior relationship.

"Here, the court looked for objective evidence to support [Audette's] claim and found none," Nakasian said. "That's important because disqualification of counsel can be used as a strategic device. I'm not accusing Ms. Audette of doing that here, but in the big picture, the court needs to ensure that ethical rules are being followed but not being used to prevent a party from being represented by their counsel of choice."
Check out the full article in Lawyers Weekly if you are a subscriber or sign up for a one-month trial.
To learn more, reach out to Stacey Nakasian or Stephanie Friedel.