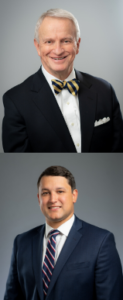 by Patrick Guida & Matt Phillips | Just as the COVID-19 outbreak has created unprecedented challenges for our society and our community, Rhode Island's residential and commercial landlord-tenant law has been substantially impacted during this tough time.
The Basics of RI Statutory Law in Residential Evictions
Ordinarily, Rhode Island law requires that if any part of the stipulated rent is due and in arrears for 15 days, the landlord shall send a written notice form similar to the one provided here: § 34-18-56(a).
It specifies the amount of the rent which is late, makes a clear-cut demand for the rent, and notifies the tenant that unless he/she rectifies the breach within five days of the date of mailing of the notice, the rental agreement shall terminate. From there, the landlord may start an eviction action in the appropriate district court or housing court.
We know that, due to the sensitivities of the pandemic and the current changes in the evictions process, landlords are hesitant to begin this process and issue even preliminary notices.
Furthermore, with our court system closed until May 17th, there is a moratorium on filing to evict any tenants until at least that date. The courts will likely be overwhelmed once they open and start accepting new filings, which may impact any eviction proceedings.
FAQs from RI Commerce Corp
To address these multi-faceted issues, the Rhode Island Commerce Corporation has issued the following FAQs for landlords:
Q: My tenant tells me they don't have to pay rent right now. Is that true?
A: Tenants still have to comply with their lease agreement. Check the specific language of the lease to see if there are any provisions about payment obligations under these types of unforeseen situations.
Realistically, we know many tenants are in a tight spot and may have to delay payments. However, that does not necessarily mean that they are excused from payments altogether.
Q: Can I kick out a tenant who doesn't pay their April rent?
A: No. You need a valid court order to evict someone. While you will have legal options once state courts re-open, in the meantime it's illegal to take actions such as changing locks, throwing out possessions, or turning off utilities.
Q: I'm worried that I won't make my mortgage payment. What do I do?
A: If you're worried how you're going to make your mortgage payment, reach out to your lender directly as soon as possible.
Most already have payment accommodation tools, and the Department of Business Regulation has also asked banks to offer as much flexibility as possible to affected customers. For example, your bank may allow you to defer or re-schedule your next mortgage payment.
Five-Day Demand Notice Not Eviction Action
Landlords maintain the right to issue the five-day demand notice on the sixteenth (16th) day after the default in payment of rent during any applicable month. It can be issued even before the Rhode Island courts reopen because the issuance of that notice is not considered to be the commencement of an eviction action.
The actual commencement of the eviction action does not occur until the summons and complaint is filed with the Rhode Island District Court, which under current circumstances can be done not earlier than the later of: a) May 17, 2020; b) if later than May 17, 2020, the date when the Rhode Island Courts reopen for non-emergency matters; or c) the date which is six days after mailing the five-day demand notice.
Note: If the tenant has breached the lease or rental agreement for reasons other than the non-payment of rent such as violation of covenants relating to criminal activity on the premises, failure to maintain the premises in a sanitary and safe condition, and/or deliberate or negligent destruction of or damage to the premises, then another and different notice needs to be issued. That is the "20-Day Notice of Noncompliance," which must specify the violations of the lease and allows for a longer, twenty-day cure period.
Reach out to D&S attorneys Patrick Guida or Matt Phillips if you have questions about your particular situation. We're here to help.