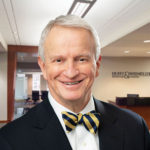 On February 27th, Patrick Guida was part of a three-person speaking panel for an American Law Institute (ALI-CLE) webcast on "Life After LIBOR: What to Expect and How to Prepare."
LIBOR, the London Interbank Offered Rate, is a benchmark interest rate at which major global banks lend to one another in the short-term international interbank market. It is also the basis for consumer loans in countries around the world, such as credit cards, car loans, and adjustable rate mortgages.

The audience comprised close to 100 attorneys from across the country, including both attorneys in private practice and in-house counsel in banking, finance, insurance and beyond.
Patrick focused on a number of issues vital to the LIBOR transition including:
1. The history of how LIBOR came into disfavor, how that impacts the financial markets, and the transition from LIBOR now being prescribed by the Official Sector, including the United States Federal Reserve Bank.
2. The various alternative benchmark reforms currently favored by the various central banks around the globe. See the screenshot below of the seminar chart for the status of currently proposed benchmark reforms.
3. Coordination of the transition to: A) the new benchmark reforms and "Fallback" language recommended by the Alternative Reference Rates Committee (ARRC) for conventional loans, both syndicated and bi-lateral, including the new Secured Overnight Financing Rate (SOFR) language; with B) the new reforms and "Fallback" language recommended by the International Swaps and Derivatives Association (ISDA) for interest rate swaps and other derivative transactions documented by the ISDA Master Agreement.
To learn more about how the transition from LIBOR to SOFR and the other benchmark reforms may impact your business or institution, reach out to Patrick directly.