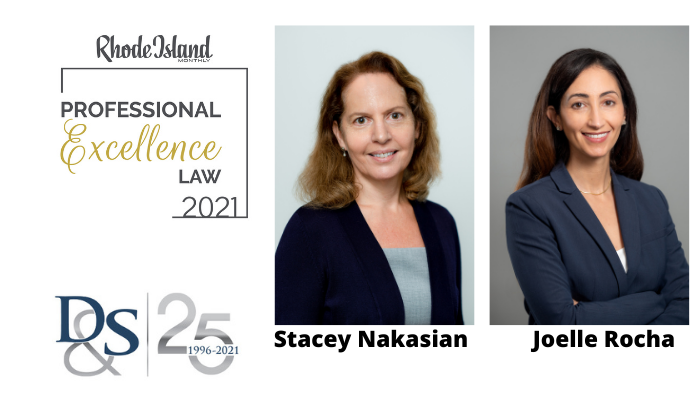 Rhode Island Monthly's Professional Excellence in the Law has recognized Stacey Nakasian for the practice area of Arbitration and Mediation, and Joelle Rocha for the practice area of Environmental and Land Use.
Stacey Nakasian is certified as an arbitrator by the American Arbitration Association. She leads the firm's litigation department. She has over thirty years' experience litigating complex commercial issues including fiduciary & trusts, IP, securities, insurance coverage. She is known for her proactive and tenacious approach that both achieves results and advances her clients' needs and goals. See Stacey's professional biography and reach out here.
Joelle Rocha focuses on real estate development and land use. She has successfully permitted several of the state's largest mixed-use developments. She has represented private developers in residential, commercial, mixed use and solar projects and before municipal and state boards and agencies. She has secured tax stabilization agreements for several private development project. See Joelle's professional biography and reach out here.
Rhode Island attorneys are chosen to receive the Rhode Island Monthly honor based on attorney peer reviews, professional standing, feedback from related professionals, and other data collected by a third party survey and data company.