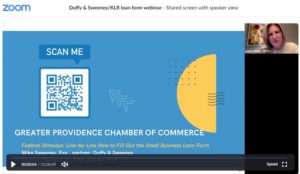 On April 8th, Mike Sweeney, Esq., Founding Partner and Shareholder at Duffy & Sweeney and Anthony Mangiarelli, CPA and Partner at KLR joined with the Greater Providence Chamber to share their expertise in how businesses can best fill out the loan applications for the federal Paycheck Protection Program and SBA Disaster Business Loans. They answered questions and provided advice and tips for action.
In case you missed it …
See recording of  this Chamber webinar.
Learn more about the D&S Here2Help HOTLINE, our FREE email and call HOTLINE for use by clients, friends and small business owners struggling without the resources to get answers to general, business legal questions during the COVID-19 pandemic. Learn more here.