Duffy & Sweeney's Stacey Nakasian was featured in a March 26th Rhode Island Lawyers Weekly article on "force majeure" entitled Pandemic prompts urgent review of overlooked contractual clause.
She stated … contracts between companies in the United States do not typically include epidemic/pandemic/quarantine language. However, she said the linchpin of the issue is that the triggering event is one that the parties did not anticipate and is beyond their control, meaning that a pandemic such as the coronavirus could possibly fall under more general terms, such as an "act of God."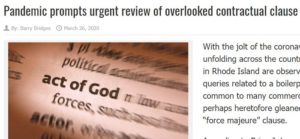 See article in Rhode Island Lawyers Weekly here. (As always, the full article is behind the RILW paywall.)
Check out our FAQs on Force Majeure Contract Provisions here.
Learn more by contacting Stacey Nakasian here OR visiting Duffy & Sweeney's COVID-19 Resource Center here.