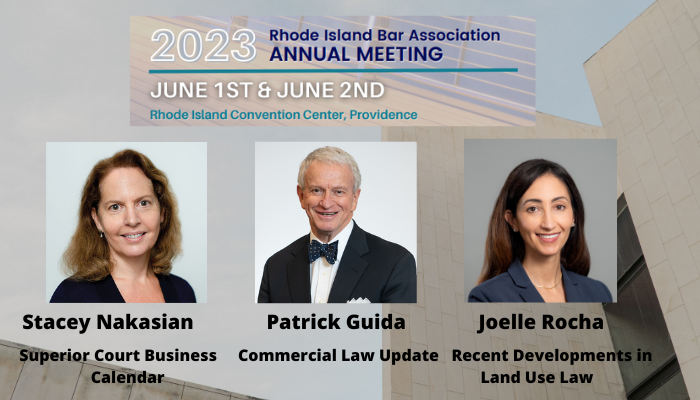 Three of our D&S partners are gearing up to speak at the upcoming annual meeting of the Rhode Island Bar Association on June 1st and 2nd.
Stacey Nakasian will be on the panel discussing practice before the Superior Court Business Calendar.  The panel, which includes Superior Court Judges Brian Stern and Richard Licht and attorney Richard Land, will review what cases are eligible for the Business Calendar, how to get a case assigned, and the process by which cases are typically litigated on that calendar.  Justices will offer comments regarding forms, preferences, and practice tips.
Patrick Guida will be part of the attorney panel presenting the Commercial Law Update.  During the first session of the program, the panel will review various state and federal commercial law-related court decisions from around the United States, with some emphasis on Rhode Island decisions, all being decisions issued during the last 12 months.  During the second session, the panelists will review the proposed comprehensive revision of the Uniform Commercial Code intended to accommodate emerging technologies and which is expected to be enacted in Rhode Island during this 2023 legislative session.
Joelle Rocha will be part of the two-person speaker line-up to address Recent Developments in Land Use Law. They will address: recent amendments to the enabling statutes and other laws governing the review and approval of development applications by municipal land use boards: lessons learned from recent judicial opinions involving land use; and issues related to legislative commissions involving land use and affordable housing.
See the full RI Bar Association program brochure here.