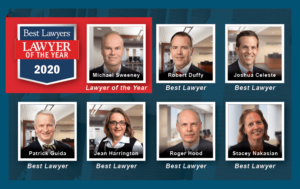 Congratulations to firm co-founder Mike Sweeney who was named LAWYER OF THE YEAR* and to all of our Duffy & Sweeney partners recognized as 2020 Best Lawyers.
Best Lawyers awards are based on peer-review with a focus on legal expertise, but also ethics and professionalism of the highest caliber.
*Only a single lawyer in each practice area and designated metropolitan area is honored as the LAWYER-OF-THE-YEAR. This is the fourth year Mike Sweeney has been recognized as LAWYER-OF-THE-YEAR.
Our attorneys were recognized in the following practice areas:
🏆 Michael Sweeney:
Business Organizations (including LLCs and Partnerships)
Closely Held Companies and Family Businesses Law
Corporate Law
Mergers and Acquisitions Law
🏆 Robert Duffy:
Commercial Litigation
Litigation – Intellectual Property
Litigation – Mergers and Acquisitions
Litigation – Securities
🏆 Joshua Celeste:
Closely Held Companies and Family Businesses Law
🏆 Jean Harrington:
Closely Held Companies and Family Businesses Law
Corporate Law
Mergers and Acquisitions Law
Real Estate Law
Securities / Capital Markets Law
🏆 Stacey Nakasian:
Commercial Litigation
Litigation – Trusts and Estates
Litigation – Securities
Litigation – Intellectual Property
🏆 Patrick Guida:
Banking and Finance Law
🏆 Roger Hood:
Copyright Law
Trademark Law