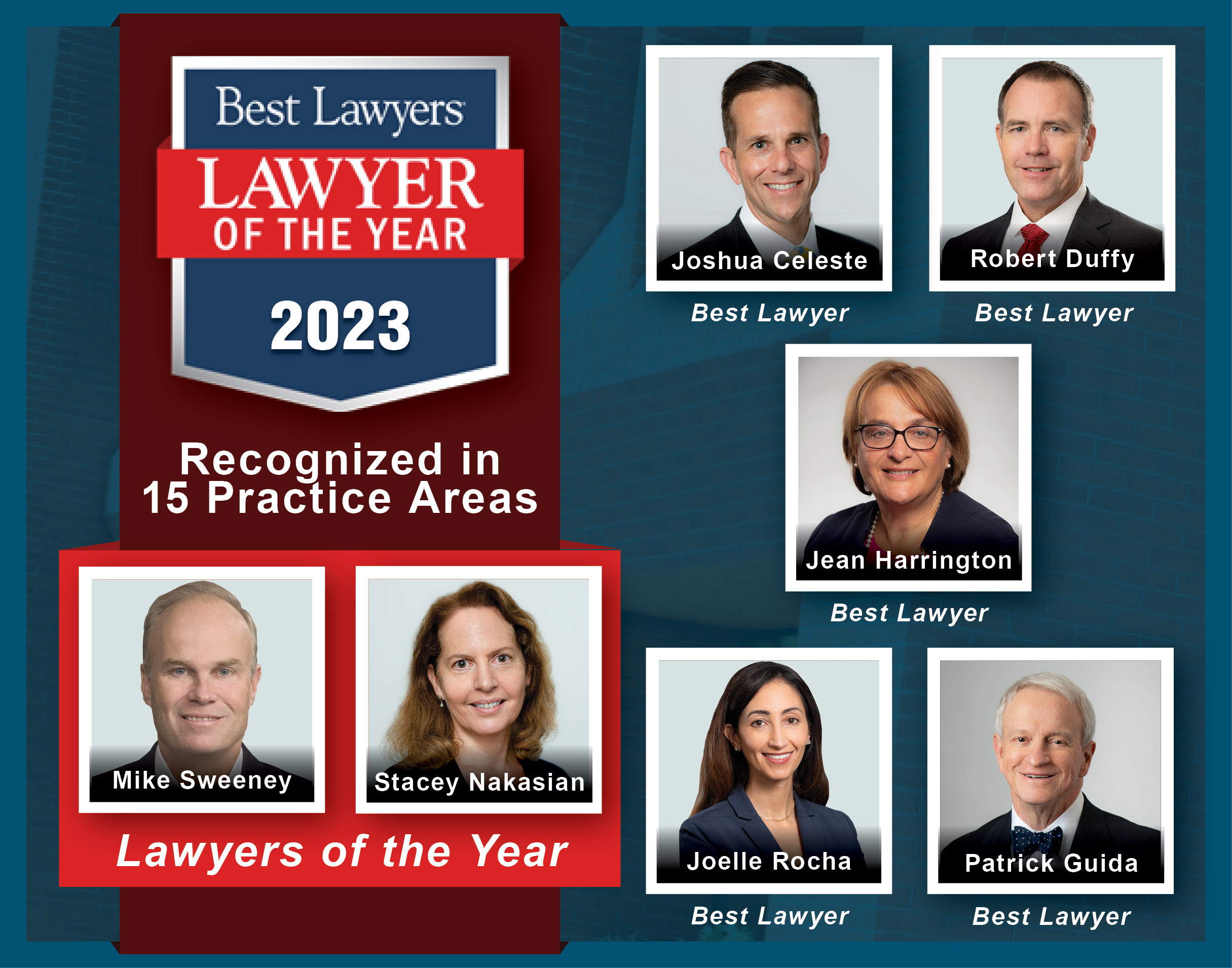 Congratulations to Mike Sweeney and Stacey Nakasian who were named Lawyer-of-the Year — each for the 5th (fifth) time —  in the categories of mergers-and-acquisitions and trusts/estates litigation, respectively.
Additional shout-out to all of the D&S attorneys — Bob Duffy, Jean Harrington, Josh Celeste, Patrick Guida, Joelle Rocha  — who were recognized by Best Lawyers — in conjunction with US News & World Report  — in the Providence metro region. In total, firm attorneys were noted for fifteen (15) practice areas for 2023.
Best Lawyers awards are based on peer-review with a focus on legal expertise, but also ethics and professionalism of the highest caliber. The Lawyer of the Year designation is awarded to individual lawyers with the highest overall peer-feedback for a specific practice area and geographic region. Only one lawyer is recognized as the "Lawyer of the Year" for each specialty and location. Rankings capture the consensus opinion of leading lawyers about the professional abilities of their colleagues.
Our attorneys were recognized in the following practice areas:
Stacey Nakasian: Lawyer of the Year* & Best Lawyer
Commercial Litigation
Litigation – Banking and Finance
Litigation – Trusts and Estates*
Litigation – Securities
Litigation – Intellectual Property
Michael Sweeney: Lawyer of the Year* & Best Lawyer
Business Organizations (including LLCs and Partnerships)
Closely Held Companies and Family Businesses Law
Corporate Law
Mergers and Acquisitions Law*
Jean Harrington:  Best Lawyer
Closely Held Companies and Family Businesses Law
Corporate Law
Mergers and Acquisitions Law
Real Estate Law
Securities / Capital Markets Law
Robert Duffy: Best Lawyer
Commercial Litigation
Litigation – Insurance
Litigation – Intellectual Property
Litigation – Mergers and Acquisitions
Litigation – Securities
Joshua Celeste: Best Lawyer
Closely Held Companies and Family Businesses Law
Patrick Guida: Best Lawyer
Banking and Finance Law
Commercial Finance Law
Joelle Rocha:  Best Lawyer
Commercial Litigation